For details on when tennis coaching classes are on please see the Tennis Coaching page.
Our 6 all-weather floodlit tennis courts provide you with the option to play tennis all year long, up to 10:30 pm. The main tennis courts were fully refurbished in 2016, with a new performance playing surface, fencing and lighting. With this investment the club continues to host LTA events such as Giffnock Junior and Senior Open's and the prestigious West of Scotland Championships.
The club also has 3 fantastic mini-tennis courts which support the structured development of Mini members (4 to 8 year olds).
Our LTA-accredited coaches run multiple coaching events throughout the week and at weekends.
For adults there are Beginner coaching sessions for players with no tennis experience at all, leading through to Intermediate coaching as players progress.
For younger members there are Mini and Junior coaching sessions to suit all abilities from those competing in tournaments to those who just want to play for fun.
The club also runs very popular Cardio Tennis sessions which are available to non-members.
On Thursday nights we combine our Beginners and Intermediate adult coaching sessions (free to all members) with an optional Social Tennis night, allowing players of all abilities to play together. This is a great way to improve your tennis game and to meet other members.
While for those who believe themselves to be absolute beginners we offer a new Beginner Social Tennis session on Monday evenings.
Our Tennis teams play in a range of leagues and competitions, with something available to everyone who is looking for competitive play.
In April 2017 Giffnock Tennis Squash & Hockey Club achieved an important Tennismark+ accreditation from the LTA.
So, what is stopping you from joining a great club?
And tennis is good for you and your family!
Tennis is a lifelong sport, providing physical, psychological and social benefits to all those who play.
The health benefits of playing tennis are often lost when compared to more traditional physical activities like running, swimming and cycling. However, you may not realize that playing tennis for one hour burns about 600 calories, making it as effective as jogging or an indoor cycling class. And the beauty of tennis is that it challenges your mind and your body.
The tactical aspect of the game keeps your mind occupied while your body gets a good workout – the short-term goals of reaching that little yellow ball in time makes it a complex sport full of small rewards and limitless challenges. Due to this, playing tennis may generate new connections in the brain, which encourages continued brain development.
Studies show how tennis can help improve your mental awareness, your assertiveness, lower your levels of depression, help you portray a positive image and develop self-control.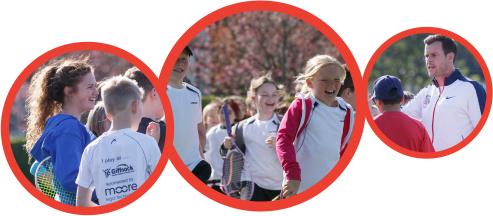 Benefits include
Club at heart of the community
Free coaching included*
Family Friendly
Competitive & Social Sports
Join a strong & successful team
Great social events
* for members during school terms as shown on our programme posters, along with additional pay-to-play squads for mini and junior members
Giffnock Tennis Challenge With the courts currently unavailable due [...]
March 2020 - TS300 Doubles Tournament Giffnock hosted another [...]
Doubles tournaments to kick off the new season The club will be running [...]
6 All-Weather Floodlit Courts
3 Mini Tennis Courts
2 Indoor Squash Courts
Licensed Bar with BT Sports
Viewing Gallery Area
Function Suite
Club Shop
Free Wifi
On-site Parking