This term is a 10-week block (11 weeks for Wednesday Red Ball classes), running right through the February school half-term. The final day of coaching in this term will be Thursday 29th of March.
Please note changes to under 12 class times, speak to coaches for confirmation if unsure.
Various coaches are also available for private lessons. To book these please speak to the coach direct.
If you have any queries, please do not hesitate to contact us or contact Steph on 07414221022.
PLEASE NOTE: Whilst all of our tennis courts are all-weather there are some weather conditions which will prevent play from going ahead. When coaching does need to be cancelled, the club will provide as much advance notice as is possible. As such please ensure that the club is provided with your up to date contact details, including email address. For the latest news on coaching (and everything else) please follow the club on Facebook and Twitter.
Under 5s – Nursery
| Day | Time | Level | Cost |
| --- | --- | --- | --- |
| Monday | 1.00pm – 1.50pm | Little Hitters | Fee applies |
| Tuesday | 11:00am - 11:50am | Little Hitters | Fee applies |
| Tuesday | 1:00pm - 1:50pm | Little Hitters | Fee applies |
| Thursday | 1:00pm - 1:50pm | Little Hitters | Fee applies |
| Friday | 11:00am - 11:50am | Little Hitters | Fee applies |
| Friday | 1:00pm - 1:50pm | Little Hitters | Fee applies |
5-8 Years -Red Ball classes
| Day | Time | Level | Cost |
| --- | --- | --- | --- |
| Tuesday | 4:00pm - 5:00pm | Intermediate | Fee applies |
| Tuesday | 6:00pm - 7:00pm | Boys Squad | Fee applies |
| Wednesday | 4:30pm - 5:15pm | P1s & P2s | Fee applies |
| Wednesday | 5:15pm - 6:00pm | P3s & P4s | Fee applies |
| Wednesday | 6:00pm - 7:00pm | Invitational | Fee applies |
| Thursday | 4:00pm - 5:00pm | Intermediate | Fee applies |
| Friday | 4:00pm - 5:00pm | Girls Squad | Fee applies |
| Saturday | 1:00pm - 1:45pm | P1 | FREE with membership |
| Saturday | 1:45pm - 2:30pm | P2 | FREE with membership |
| Saturday | 2:30pm - 3:15pm | P3 | FREE with membership |
| Saturday | 3:15pm - 4:00pm | P4 | FREE with membership |
| Saturday | 4:00pm - 5:00pm | Invitational | FREE with membership |
| Sunday | 1:00pm - 2:00pm | Matchplay | FREE with membership |
9 Years -Orange Ball classes
| Day | Time | Level | Cost |
| --- | --- | --- | --- |
| Tuesday | 6:00pm - 7:00pm | Boys Squad | Fee applies |
| Wednesday | 6:15pm - 7:15pm | Squad | Fee applies |
| Thursday | 4:00pm - 5:30pm | Squad | Fee applies |
| Friday | 4:00pm - 5:00pm | Girls Squad | Fee applies |
| Sunday | 12:00pm - 1:00pm | Squad | FREE with membership |
| Sunday | 1:00pm - 2:00pm | Matchplay | FREE with membership |
10-11 Years -Green Ball classes
| Day | Time | Level | Cost |
| --- | --- | --- | --- |
| Monday | 4:00pm - 5:30pm | Performance | Fee applies |
| Wednesday | 4:00pm - 5:00pm | Beginner | Fee applies |
| Wednesday | 7:15pm - 8:15pm | Intermediate | Fee applies |
| Thursday | 5:30pm - 7:00pm | Performance | Fee applies |
| Friday | 4:00pm - 5:00pm | Squad | Fee applies |
| Friday | 4:00pm - 5:00pm | Girls Squad | Fee applies |
| Sunday | 1:00pm - 2:00pm | Matchplay | FREE with membership |
| Sunday | 2:00pm - 3:00pm | Squad | FREE with membership |
12+ Years -Yellow Ball classes
| Day | Time | Level | Cost |
| --- | --- | --- | --- |
| Monday | 5:00pm - 7:00pm | Performance | Fee applies |
| Tuesday | 5:00pm - 6:00pm | Intermediate | Fee applies |
| Wednesday | 4:00pm - 6:00pm | U14 Performance | Fee applies |
| Wednesday | 5:00pm - 6:00pm | Squad | Fee applies |
| Wednesday | 7:00pm - 8:00pm | U18 Boys Squad | Fee applies |
| Thursday | 5:30pm - 7:00pm | Under 12 Squad | Fee applies |
| Friday | 5:00pm - 6:00pm | Squad | Fee applies |
| Sunday | 3:00pm - 4:00pm | Under 12 | FREE with membership |
| Sunday | 4:00pm - 5:00pm | Under 16 | FREE with membership |
Adult classes
| Day | Time | Level | Cost |
| --- | --- | --- | --- |
| Monday | 7:00pm - 8:00pm | Adult Cardio | Free to full members. £5.00 for non-members. £4.00 for other membership categories |
| Tuesday | 7:00pm - 9:00pm | Team Training | FREE with membership |
| Thursday | 7:00pm - 8:00pm | Beginner | FREE with membership |
| Thursday | 8:00pm - 9:00pm | Intermediate | FREE with membership |
| Friday | 9:30am - 10:30am | Cardio | Free to full members. £5.00 for non-members. £4.00 for other membership categories |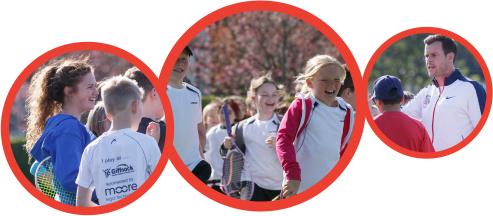 Benefits include
Club at heart of the community
Free coaching included*
Family Friendly
Competitive & Social Sports
Join a strong & successful team
Great social events
* for members during school terms as shown on our programme posters, along with additional pay-to-play squads for mini and junior members
6 All-Weather Floodlit Courts
3 Mini Tennis Courts
2 Indoor Squash Courts
Licensed Bar with BT Sports
Viewing Gallery Area
Function Suite
Club Shop
Free Wifi
On-site Parking