Members Fun Day – Saturday 22nd September 2018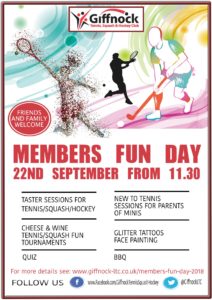 Our Members Fun Day for 2018 is taking place on Saturday 22nd September. Book the date!
A number of special activities have been scheduled for this day. These will showcase what the club already provides to members. Maybe there is an activity that you are thinking doing more on?
The Saturday Mini Tennis sessions are running as normal, with tennis sessions for parents/carers scheduled around these.
For each activity you take part in you will receive a token. All the tokens you collect can be used to obtain items for free at the BBQ later in the day. So, the more activities you take part in, the more you get for free at the BBQ. And don't worry, you can always purchase items at the BBQ, at great prices.
There is a special Quiz later in the afternoon (delivered by our very own The Quiz Inquisitor) followed by the BBQ.
Bring your friends and family. Remember that for every new senior member you attract to membership of the club you will receive £25 credit onto your door entry card to use at the bar. With so many free sessions included in our full adult membership, it is a great alternative to a gym membership!
Tennis
| Time | ACTIVITY | Location |
| --- | --- | --- |
| 11:30am - 12:00pm | Adult Cardio | Courts 1, 2 and 3 with Mark |
| 11:30am - 12:00pm | Family Tennis | Courts 1, 2 and 3 with Craig |
| 12:00pm - 12:30pm | Adult Coaching | Courts 1, 2 and 3 with Mark |
| 12:00pm - 12:30pm | Little Hitters | Court 6 with Craig |
| 12:30pm - 1:00pm | Adult Cardio | Courts 1, 2 and 3 with Mark |
| 2:00pm - 4:00pm | Cheese & Wine Tournament | Courts 1 to 4 with Richard |
Mini Tennis and Parents
| Time | ACTIVITY | Location |
| --- | --- | --- |
| 1:00pm - 1:45pm | P1 Parents Tennis | Court 6 with Mark |
| 1:00pm - 1:45pm | P1 Mini Members Coaching | Mini Courts with Craig |
| 1:45pm - 2:30pm | P2 Parents Tennis | Court 6 with Mark |
| 1:45pm - 2:30pm | P2 Mini Members Coaching | Mini Courts with Craig |
| 2:30pm - 3:15pm | P3 Parents Tennis | Court 6 with Mark |
| 2:30pm - 3:15pm | P3 Mini Members Coaching | Mini Courts with Craig |
| 3:15pm - 4:00pm | P4 Parents Tennis | Court 6 with Mark |
| 3:15pm - 4:00pm | P4 Mini Members Coaching | Mini Courts with Craig |
Squash
| Time | ACTIVITY | Location |
| --- | --- | --- |
| 12:00pm - 1:30pm | Squash and Squash 57 Taster Sessions | Squash Courts |
| 1:30pm - 2:30pm | Turbo Tournament | Squash Courts |
| 2:30pm - 4:00pm | Target Squash | Squash Courts |
Hockey
| Time | ACTIVITY | Location |
| --- | --- | --- |
| 11:30am - 12:45pm | Hockey - Beat The Goalie | Mini Courts |
Social
| Time | ACTIVITY | Location |
| --- | --- | --- |
| 4:30pm - 5:15pm | Family Quiz | Lounge |
| 5:00pm - 7:00pm | BBQ | Courtside |
| 5:00pm - 7:00pm | Fastest Serve/Bucket Challenge | Courts 1, 2 and 3 with Mark and Craig |
| 5:00pm - 7:00pm | Coconut Shy | On mini courts |